Welcome to the South America Odyssey Blog
Please see below a pdfs for the deck plans for various boats:
MV Sky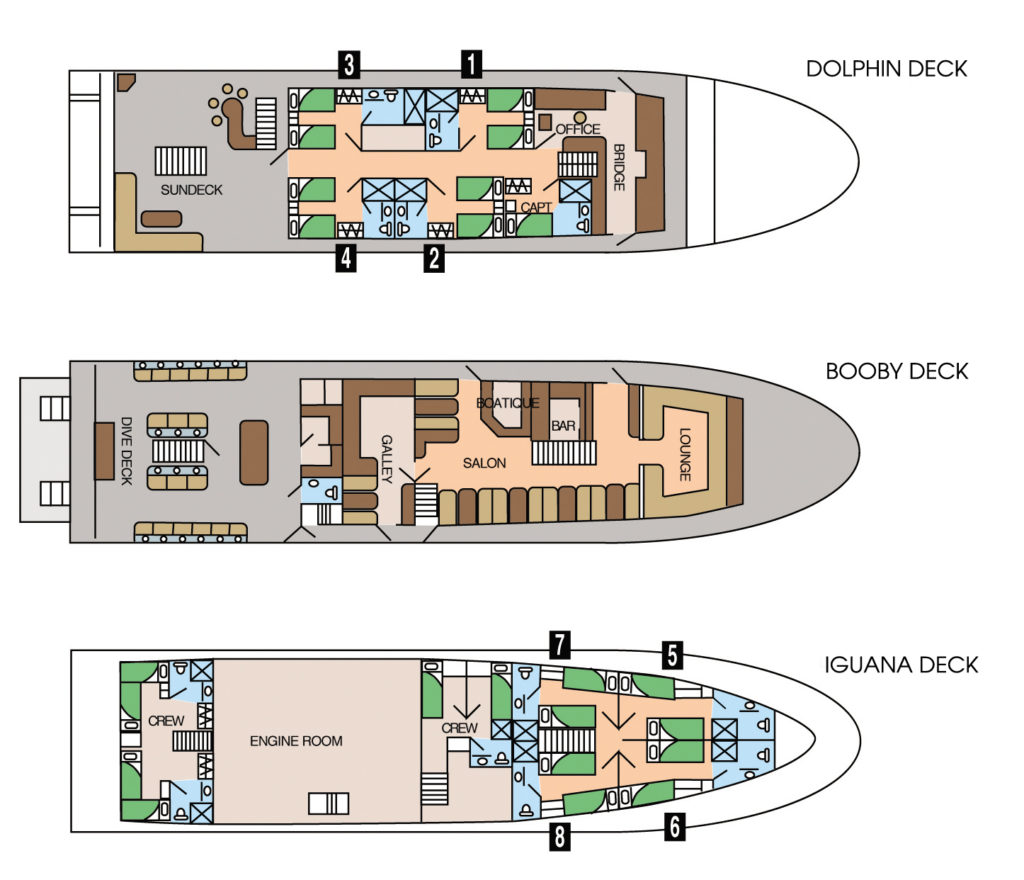 2017

11

/27

CATEGORY

TAGS

Comments Off

on Galapagos Boat Deck Plans
Lima, the only oceanfront capital city in Latin America and gateway to Peru`s mi- llenary culture, will be the starting point of this extraordinary voyage of artistic and culinary discovery.
When in Lima, it is a must to immerse your- self in a genuine, local cevicheria experience. To delve deep in the understan- ding of Peru´s trademark dish we share the table with re-nowned chef Diego Alcantara, who enthusiastically recounts the history of ceviche and explains how its modern ver- sion has a tremendous Japanese influence.
What better way to understand 3,000 years of Peruvian history than through 1,200 sam- ples of the country´s finest art, ranging from pre-Columbian and Inca ceramics, textiles and metallury, up to modern abstract works. On a private tour with the curator, we explo- re the newly reopened Art Museum of Lima, known as MALI, which holds one of the most important art collections in Latin America, housed in an ironwork palace originally built by the Eiffel Company.
"Back in the 1500`s this was prime real state" states Maru de Aliaga, after a warm greeting and a soothing pisco sour. Maru, who belongs to the 17th generation of the Aliaga family, hosts our private dinner in this oldest colonial mansion in Lima, and perhaps all of South America.
The Casa Aliaga was built in 1536 on a piece of land given by Francisco Pizarro to Geróni- mo de Aliaga, his main lieutenant. Maru has lived in the house since she was 7 years old, and knowing its past inside out, she master- fully intertwines Peruvian history with that of her own family.
Maru guides us on a 500-year journey back in time, exploring the mansion's luxurious interior with rich decorative wood and trim carving, elaborated sculptures, as well as elegant colonial art and furniture.
We explore our Bohemian side and walk around Lima's artistic Barranco district, arriving at the stunning bright blue historic residence that houses Las Pallas art gallery. This quality collection, founded 27 years ago by the charismatic Welsh immigrant Mari Solari, displays traditional crafts and folk art from the three major regions of Peru: coast, Andes and Amazon.
We stay in Barranco to dine on criollo cuisine at the stylish 1906-renovated tavern Isolina Taberna Peruana, gifted with the company of Jorge Riveros-Cayo, award-winning journalist and self-declared incurable foodie.
Criollo cuisine is inherited from the Spanish
and African slaves who cooked in their kit- chens, yet this food is found far more frequent- ly in the kitchens of Limeña grandmothers than in restaurants, making Isolina a rare
treat of home-style cooking. The owner, José del Castillo, who named the restaurant after his mother, has resurrected traditional fami- ly recipes such as cuchareo, slang for tender,
slow-cooked meats eaten with a spoon, like the rich osso buco estofado cooked for four hours in red wine and herbs.
A short drive takes us to the very traditional neighborhood of San Isidro, where we disco- ver one of the worlds most exquisite private colonial art collections in the residence of the
late Eduardo Barbosa and his wife Silvia Stern. Silvia and son Aldo personally guide us through the myriad of Vice-regal master- pieces of painting, sculptures, silverware and art objects that elucidate more than four cen- turies of Spanish art.
2017

11

/17

CATEGORY

Comments Off

on Foodies and Art in Lima
My husband and I had never been to South America before but it was high up on our bucket list and when we found ourselves with a build-up of leave we decided to head out.  We knew roughly what we wanted to see and do: waterfalls, salt-flats, horse-riding and lots of good wine and food, but after that…
Odyssey suggested we start our trip in Lima and make our way down the continent.   I wasn't such a fan of Lima but Cusco was beautiful and the people were wonderful.  It's a really fun and lively town with masses of Andean charm – I would happily return another time.  We decided that we would miss out on the Inca trail and instead trained up to the base of Machu Picchu.  We overnight-ed here and then rose early to catch the sunrise by the Sun Gate, (this was a great tip from our Odyssey consultant as we missed the crowds).  Everyone has seen numerous photos of lamas in front of Machu Picchu, but seeing it in the flesh was incredible.
Although my husband is most definitely a horse-novice, I am obsessed and riding through the Andes has always been a dream.  I managed to convince him that of all the places in the world to ride this was it!  It was truly a once in a lifetime experience riding through the hills and even he enjoyed it, though I had to promise to join him on the Death Road bike ride in La Paz!  To be honest I would give it a miss if you are of a sound mind – it was truly terrifying!
From here we travelled down to the salt flats of Uyuni, these were stunning but freezing come nightfall!  We then crossed into Argentina and over to Iguazu Falls.  I have never seen such a totally sensory-overloading sight, the sheer scale of the falls, the birds flying over-head and the crashing sound of the water was incredible.  I recommend everyone visit!  With a few days left we headed up to Mendoza to enjoy some much deserved wine and steak and then onto the Pampas to stay in a real Estancia, eat from asados (BBQs) and ride with the gauchos.  This was such a peaceful and romantic place in the most glorious setting.
We ended our trip in Buenos Aires, a beautiful and very European feeling city, full of life, art and the perfect way to end our fantastic trip.
The whole trip was incredible, truly once in a lifetime and the itinerary Odyssey helped us build was perfect for the time we had.  Although we travelled a lot we never felt rushed or like backpackers.  This was a great mixture of adventure and luxury.  Now we are back we can't wait to book our next trip, this time to Pagatonia and the Amazon!
2017

03

/07

CATEGORY

Comments Off

on Peru, Bolivia and Argentina
Below are some links that you may find useful:
Musango Safari Camp


An exclusive 16 bed, owner-run camp on Lake Kariba. Musango offers an abundance of wildlife and bird life, with a large selection of activities available on offer.
www.musangosafaricamp.com
Rhino River Lodge


Rhino River Lodge is a Big 5 luxury safari lodge situated on a 23000 hectare private game reserve in the heart of Zululand in KwaZulu Natal, South Africa.
www.rhinoriverlodge.co.za
Tanzania Odyssey


Our detailed microsite for Tanzania Safaris and Tanzania Honeymoons
www.tanzaniaodyssey.com
Africa Odyssey


Tailor-made safaris to East and Southern Africa and the Indian Ocean.
www.africaodyssey.com
2016

10

/21

CATEGORY

Comments Off

on Links Page
Recent Posts
Archives
Categories